Focusing on the 2 areas of concern for this sweet dog in Australia, I determined 3 gemstones that could provide the strongest support for a system that was battling cancer with a further complications of pancreas.
Bloodstone and Carnelian for the liver cancer. Blue lace agate for the pancreas.
I created a special Pawmulet with all 3 gemstones in order that they could all work in conjunction with the health challenges Tarsha was facing. The Pawmulet was sent to Australia and gemstone treatment started on October 4, 2012.
The enzymes are supposed to be fewer than 10 and previously Tarsha's had elevated very rapidly and were almost 1000 but now they are down to 800. The vet also did a scan of Tarsha's liver while she was under and he said that the cancer hadn't increased or spread at all. I am sure the Pawmulets has been a big part of these improvements. The vet just can't believe she is still with me, let alone doing so well. Thanks again~
(Maura Skipsey)"
A happy puppy owner from Guelph wrote:
"I just got a 4 month old puppy who was struggling with separation at nighttime.I picked up (Ruby in Zoisite) from Pawmulets by Raquel and that very night she slept 5 ½ hour straight, and the Following days at least 7 hours each night. I am so grateful I found the Pawmulets by Raquel."
"Thank you Raquel.
I bought the Amber and Amethyst Pawmulet at the show in Burlington. About two weeks after I have placed it on Dexter's collar, and took him to the groomer, she told me that there are actually less ticks and flees. I always do everything I can to keep him clean, but hate to use chemicals. Finally got my holistic solution that works. I will tell and refer all my friends to you.
-Debbie R. Toronto. Ontario"
"Our Lovely dog was snoring at night, waking us up every hour or so. Let us just say this. A big thank you Raquel for the Lapis lazuli Pawmulet. Our dear friend has stopped snoring after 3 days. you saved our nights.
Again thank you so very much. those crystals do work.
-Nicole. Cambridge Ontario"
"Ginger had an excessive barking issue.
When I met you at the show, you told me that I could use the Amethyst and Rose quartz Pawmulet. Which I did. Ginger is now barking to speak her mind, without the excessiveness.
Raquel, You are awesome, thank you for this solution.
-Betty K. Richmond Hill"
The story of Jasper
This case is about Jasper, a six and a half year old rescued dog who was adopted by a wonderful, warm-hearted lady. Jasper came to her with anxiety, jealousy and social behaviour issues. He would try to jump in, barking when her other dogs played. He barked incessantly when people came to the door. While being bathed he would moan on the on hand and show affection on the other. She wrote me after having him for nine month without any improvement.
As well as behaviour issues , Jasper had lost most of his teeth which required him to be handfed. His owner had been told that she was Jasper's fifth home. She did not want to return him and did have a sense that he had been trained at some point. Jasper was ful of tricks, but seemed to be unhappy. She treated him with homeopathic medicine, but these seemed to make him tired and sad.
After analysis this case, I listed Jasper's issues in order to find the corresponding crystals to be used for the Pawmulet. Issues such as anxiety, barking, make noises while being petted, and interfering with the other dogs are typical imprints of past abuse. These issues are a result of unbalanced Solar Plexus, Heart, Brachial and Throat Chakras.
Amazonite is a mint green aqua green stone which is associated with the Heart and Throat Chakras. Amazonite calms the nervous system and improves confidence, loving communication and trust, which helps in training. Amazonite is a stone of expression, if you feel your pet has locked up parts of their personality. It eliminates aggravation and negative energies. The animal becomes calm, the excessive barking will stop. It soothes all the Chakras and rejuvenates the Heart and Throat Chakras. General lth maintenance, helps resist tooth decay and osteoporosis.
Rose Quartz was the second crystal I used. This crystal supports physical and psychological healing. Rose Quartz is considered to be the perfect stone for love and relationships. It has a gentle vibration of love, which is absorbed by your pet and stimulates a sense of peace happiness. Rose Quartz corresponds to the Heart Chakra and assists in building loving and lasting relationships with your pet. Rose Quartz will show your pet your feelings of love and caring. It opens the Heart to love and peace which are natural and most powerful state of being. It also strengthens both, the heart muscles and circulatory systems. It helps heal the adrenals and thymus glands. Rose Quartz aids issues such as anger and aggression, fear muscular tension and rigidity, nervousness, past abuse or cruelty which leads to seeing all humans as bad.
Amber was the third crystal I used. Amber is not a crystal but rather an organic substance, which diverse healing properties that affect the whole body. It helps with detoxifying, purifying, absorbing and dispelling negative energy, physically and emotionally. Amber will aid an aging animal that becomes withdrawn, allergies, and arthritis, rheumatism and bladder problems. It is particularly helpful to those animals with lower immune system, due to age or illnesses, who are sensitive to infections, sensitive to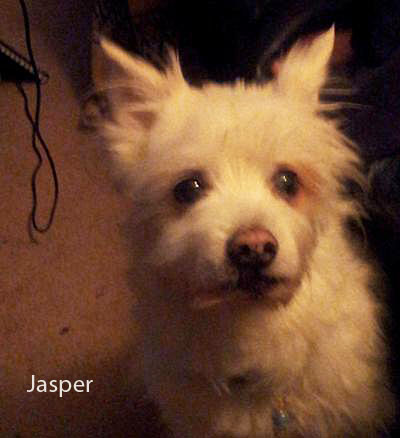 "Here is my sweet Jasper wearing his crystals. They do seem to be helping with his issues so I'm happy. He is a wonderful watch dog. Since he's been wearing one of Raquel's Pamulets he has been playful relaxed and one or two barks compared to not being able to stop him from barking and anxiety moaning and pacing back and forth... So I'm happy
(~Jennifer Haines")