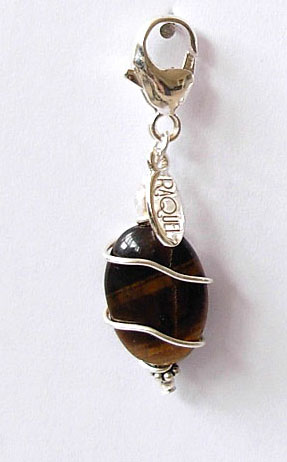 Gemstones and crystals are not only a beautiful piece of pet jewelry, they bring powerful "New Age" healing properties that influence and balance your pet's chakras.
Each Pawmulet by Raquel is handcrafted with semiprecious gems. A silver plated lobster clasp attaches to the pet's collar ring and is accompanied with a split ring to accommodate any size of collar ring.
The amulet consists a genuine 18mm Tiger's Eye bead cased in silver plated wire with copper core which aids to pet ailments. It is secured with a star spacer and tiny silver bead. Each "Pawmulet" has the Raquel silver tag brand name.
Tiger's Eye protects, energizes the body when worn and it is beneficial for weak and sick animals. This powerful stone brings luck and creates Courage and Confidence. It is seen as an excellent gemstone for Nocturnal Vision and the Entire Digestive System; it helps your pet to become patient, focused, determined and alert. If your pet is training for competitions then Tiger's Eye will assist with perfect timing and action. It will help your pet to be extra vigilant at protecting your property. Tiger's Eye is the Perfect Dog Jewelry gift to give to your pet because of its strong, grounding and protective characteristics stem.
PBR020 - Tiger's Eye crystal pet amulet
Price: US$ 25.00
For your complimentary item.
Choose ONLY one option FROM THE FOLLOWING
A- angel wings
B- Hamsa
or
C- Initial Disc with the letter of your choice.
ONLY When choosing HAND HAMMERED DISC,
Add Initials to " NOTE TO SELLER"