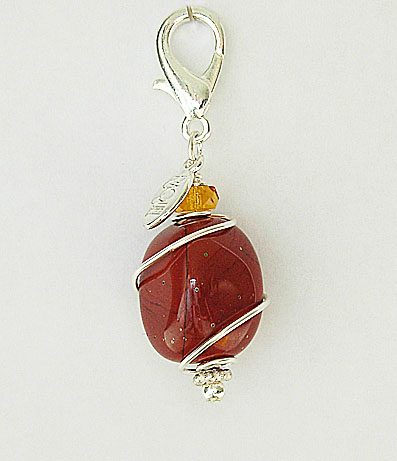 Gemstones and crystals are not only a beautiful piece of pet jewelry, they bring powerful "New Age" healing properties that influence and balance your pet's chakras.
Each Pawmulet by Raquel is handcrafted with semiprecious gems. A silver plated lobster clasp attaches to the pet's collar ring and is accompanied with a split ring to accommodate any size of collar ring. The amulet consists a genuine 20mm Red Jasper bead is encased in silver plated wire with copper core which aids to pet ailments. It is secured with a star spacer and tiny silver bead. Each "Pawmulet" has the Raquel silver tag brand name.
Jasper is a form of opaque, usually patterned, chalcedony & occurs in massive formations the color range includes dark red, orange, yellow, tan, brown, green, grey & blue it also sometimes occurs in the configuration containing stripes or banding. This mineral is known as the supreme nurturer. It helps balance Yin and Yang energy and it is often worn to provide protection and well-being. It holds an aspect of the solar energy and a connection to the solar plexus and can be used in the treatment of internal organs imbalance that affect the kidneys, liver, bladder and spleen as well as seizures. This stone contains a number of healing powers such as improving poor circulation, healing the liver, healing the kidneys, pain relief, eliminating energy depletion, heals blood issues, as well as supporting the sexual, digestive, and circulatory organs. Red jasper is associated with the first and second chakra. Crystal healing lore says that physically it assists in healing by maintaining positive movement with all types of disorders and disease, and is particularly helpful with diabetes.
AILMENTS:
-TREATMENT OF INTERNAL ORGAN IMBALANCE,
SUCH AS KIDNEY, LIVER AND STOMACH
-THE TREATMENT OF BLADDER, SPLEEN, AS WELL AS SEIZURES
pbr029 Red Jasper Pet Pawmulet
Price: US$ 25.00
For your complimentary item.
Choose ONLY one option FROM THE FOLLOWING
A- angel wings
B- Hamsa
or
C- Initial Disc with the letter of your choice.
ONLY When choosing HAND HAMMERED DISC,
Add Initials to " NOTE TO SELLER"