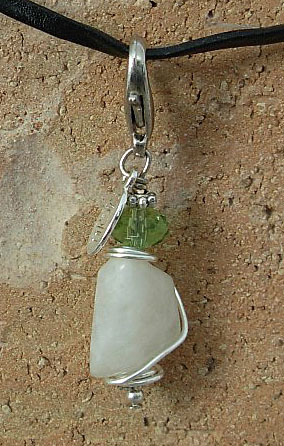 Gemstones and crystals are not only a beautiful piece of pet jewelry, they bring powerful "New Age" healing properties that influence and balance your pet's chakras.

Each Pawmulet by Raquel is handcrafted with semiprecious gems. A silver plated lobster clasp attaches to the pet's collar ring and is accompanied with a split ring to accommodate any size of collar ring.

The amulet consists a genuine moonstone bead cased in silver plated wire with copper core which aids to any pets ailment. It is secured with a star spacer and tiny silver bead. Each "Pawmulet" has the Raquel silver tag brand name.

Moonstone carries lunar energy and helps to balance emotional upsets. Moonstone has a gentle energy that helps to ease stresses and feelings of anxiousness. Moonstone has been called the stone of "new beginnings". It helps to calm over-reactions. The stone is filled with receptive passive energy which helps to alleviate negative attributes (like a bad temper or aggressive behavior)
Moonstone helps your pet to deal with stress and emotional instability. It provides your friend with deep emotional healing. Helps with digestion and Hyperactivity issues, Soothes and relaxes during the birthing process.
PBR015- Moonstone healing crystal pet amulet
Price: US$ 25.00
For your complimentary item.
Choose ONLY one option FROM THE FOLLOWING
A- angel wings
B- Hamsa
or
C- Initial Disc with the letter of your choice.
ONLY When choosing HAND HAMMERED DISC,
Add Initials to " NOTE TO SELLER"