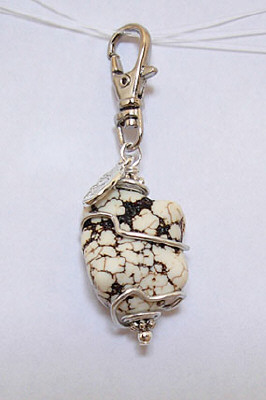 Gemstones and crystals are not only a beautiful piece of pet jewelry, they bring powerful "New Age" healing properties that influence and balance your pet's chakras. Each Pawmulet by Raquel is handcrafted with semiprecious gemstones beads. A silver plated lobster clasp attaches to the pet's collar ring and is accompanied by a split ring to accommodate any size of collar ring. Each "Pawmulet" has the Raquel silver plated tag brand name.
Natural crystals comes in differnt shapes and sizes and makes the amulet one of a kind.
MAGNESITE is a fascinating "brain like" white with brown streaks of chalky and marbled. It stimulates metabolism and reduces fat and cholesterol. Magnesite contains a high level of magnesium and aids its absorption in the body It detoxifies and neutralizes body odor, acts as an antispasmodic and muscle relaxant, and treats stomach, intestinal, and vascular cramps and the pain from gallbladder and kidney stones. Magnesite treats bone and teeth disorders and prevents epilepsy, slows blood clotting, speeds up fat metabolism and disperses cholesterol, preventing arteriosclerosis and angina. It is a useful preventative for heart disease. It balances body temperature, lessening fevers and chills.
Magnesite brings a calming effect to the emotions, promoting tolerance for emotional stress. It supports pets who are nervous and fearful and helps them to overcome irritability and intolerance.
PBR013- Mangesite healing crystal pet amulet
Price: US$ 25.00
For your complimentary item.
Choose ONLY one option FROM THE FOLLOWING
A- angel wings
B- Hamsa
or
C- Initial Disc with the letter of your choice.
ONLY When choosing HAND HAMMERED DISC,
Add Initials to " NOTE TO SELLER"