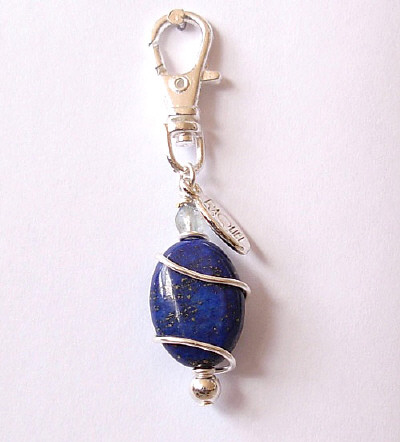 Snoring stopper
Lapis lazuli, a dappled and speckled blue stone, is a very powerful cleanser of both emotional and physical toxins. At the same time it is flushing undesirable elements from the body, it allows better absorption of much needed vitamins and minerals from the diet. The combination of these properties makes lapis a useful supplement for just about any animal or human. Poor dietary assimilation, which leads to all kinds of health problems and energy deficiency in general, is the reason many people turn to vitamin and mineral supplements both for themselves and for their pets.
Lapis will help to boost and maintain a healthier chemical balance. Animals have the "sponge effect" where they pick up on the emotional imbalances and unhappiness of their human caretakers, which lower vitality and physical functioning. Lapis helps to release such emotional negativity, freeing the emotions from harmful influences. Lapis lazuli helps to strengthen the energy meridians, and so enhances the flow of energy through the body. This makes it a very flexible healer and will aid in the treatment of a wide variety of problems .
Specifically, lapis has a particular affinity with the respiratory system and will help to clear up many ailments related to this function. It is also especially indicated for treatment of head or back pain after an injury or trauma (obviously not recommended as an outright replacement for veterinary attention, should this be required).
PBR014 - Lapis lazuli Pawmulet
Price: US$ 25.00
For your complimentary item.
Choose ONLY one option FROM THE FOLLOWING
A- angel wings
B- Hamsa
or
C- Initial Disc with the letter of your choice.
ONLY When choosing HAND HAMMERED DISC,
Add Initials to " NOTE TO SELLER"