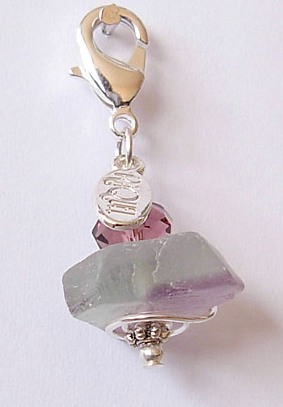 Gemstones and crystals are not only a beautiful piece of pet jewelry, they bring powerful "New Age" healing properties that influence and balance your pet's chakras. Each Pawmulet by Raquel is handcrafted with semiprecious gemstones. A silver plated lobster clasp attaches to the pet's collar ring and is accompanied with a split ring to accommodate any size of collar ring.

Fluorite can be various colours, often of a mixed purple/blue/green/yellow hue. Fluorite is a very useful crystal mentally and physically. Physically, it improves the assimilation of nutrients, specifically phosphorus, zinc, calcium, magnesium and vitamin K. Therefore, it helps convalescing animals who lost weight during illness, and strengthen them. It treats anorexia in animals, and prevents them from losing vitality.
Since Fluorite, is associated with calcium levels in the body it will help strengthen bones and teeth. It helps to prevent and reverse tooth decay and other bone disorders, being a prime source of fluorine - deficiency of which can be a cause of dental decay and soft bones. Fluorite especially strengthens the enamel on teeth. Fluorite may help alleviate arthritic and rheumatic symptoms in some animals.
Mentally/emotional, fluorite balances the left and right sides of the brain and is very useful in training as it helps to balance their rational, thinking side with their intuitive instinctual side. It helps with animal to retain their focus and helps improve the co-ordination of clumsy young animals that tend to barge into things and knock them over. it regenerates the skin and mucus membranes beneficial, for colds, flu, sinusitis, and ameliorates allergies
Arthritis and rheumatism


Clumsiness

Convalescence

Low vitality

Poor bone and tooth condition

Poor diet assimilation

Training problems

Allergies
PBR011- Fluorite Pawmulet
Price: US$ 25.00
For your complimentary item.
Choose ONLY one option FROM THE FOLLOWING
A- angel wings
B- Hamsa
or
C- Initial Disc with the letter of your choice.
ONLY When choosing HAND HAMMERED DISC,
Add Initials to " NOTE TO SELLER"