PC013-Hand-woven Dog leather collar with gemstone crystals
This dog collar is chic healing and functional. It is handwoven from genuine black leather cord and incorporated with genuine gemesone crystals. The D ring is interwoven and the closure is a contoured Black Buckle (1.5cm wide).
The dog collar depicted on the left was especially designed for a Newfoundland dog with WEAK BLADDER- incontinence.
To address this issue, Aquamarine and Ocean jasper where interwoven into the design. These 2 crystals helps with the weak bladder, and with the urine retention. In addition it helps emotionally which is part of the issue.
Packed in a beautiful brown flannel pouch.
Sizes:
Small: 7.5" - 8.75"
Medium: 9" - 10.5"
Large: 11" - 12.5"
Previous • Next• Back to Pet crystal holistic collars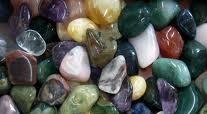 Consultation advice
without purchase.
$15.00