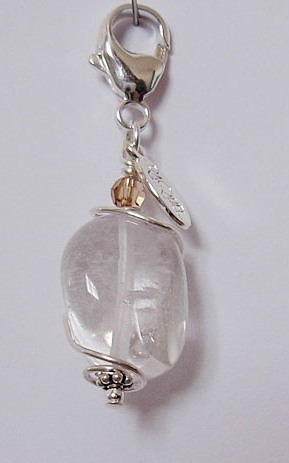 Gemstones and crystals are not only a beautiful piece of pet jewelry, they bring powerful "New Age" healing properties that influence and balance your pet's chakras.
Each Pawmulet by Raquel is handcrafted with semiprecious gemstones. A silver plated lobster clasp attaches to the pet's collar ring and is accompanied with a split ring to accommodate any size of collar ring.
The charm consists a 3/4" clear quartz nugget bead encased in silver plated wire and secured with a tiny silver bead and star adorned with a RAQUEL brand name tag.
CLEAR QUARTZ – is a master healer that is effective for all conditions, strengthening the aura and protecting against negative energies. Clear Quartz will help strengthen your pet's immune system, which will improve his or her overall health. It can also stimulate energy levels. It will aid FLEA CONTROL, car sickness, children & animals relationship and poor circulation. Dog and cat owners use it during training as quartz heightens communication between the pet and its owner. Bird owners could use it as well when taming and training new birds. Clear Quartz is great for amplifying intention, so you could program it with a specific purpose for your pet, before use. If you decide to use Clear Quartz for your pets, you should clear it in the evenings, as it will absorb any negative vibes with which your pet has come into close contact.
PBR010- Clear Quartz pet charm amulet
Price: US$ 25.00
For your complimentary item.
Choose ONLY one option FROM THE FOLLOWING
A- angel wings
B- Hamsa
or
C- Initial Disc with the letter of your choice.
ONLY When choosing HAND HAMMERED DISC,
Add Initials to " NOTE TO SELLER"