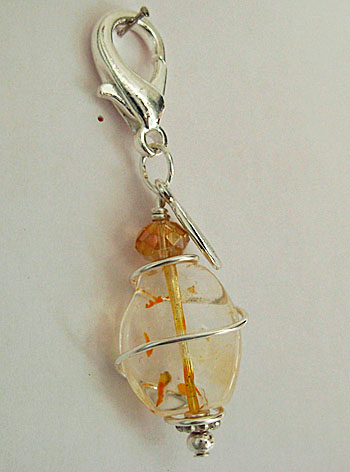 Gemstones and crystals are not only a beautiful piece of pet jewelry, they bring powerful "New Age" healing properties that influence and balance your pet's chakras.
Each Pawmulet by Raquel is handcrafted with semiprecious gems. A silver plated lobster clasp attaches to the pet's collar ring and is accompanied with a split ring to accommodate any size of collar ring. The amulet consists a genuine 18mm Citrine bead cased in silver plated wire with copper core which aids to pet ailments. It is secured with a star spacer and tiny silver bead. Each "Pawmulet" has the Raquel silver tag brand name.
CITRINE - Clear yellow Quartz looking, but is really burnt Amethyst, (Yellow from Iron.) that carry the sun power. It aids Mental and emotional clarity. Citrine helps animal to adapt and get used to strange and bewildering circumstances, such as being taken out in the street and amongst large crowds. To shows and events. Where the sheer volume of sights, smells, sounds, could be overwhelming and exhausting for them. Citrine makes a useful aid to early training with young animals that may get confused and fail to understand what is required of them. Citrine increases the hardiness and resistance of the physical body. This makes citrine another useful tool to help the condition of fading puppies and any newborn animal that is weak and struggling. Citrine aids diabetes, emotional or sensory overload, fatigue and exhaustion, low immune system, poor concentration, radiation exposure, sudden changes, training problems, vulnerable, weak of fading newborns
Chakra: base, sacral, solar plexus, crown
AILMENTS:
-DIABETES
-LOW IMMUNITY
-TRAINING PROBLEMS
-FATIGUE AND EXHAUSTION
-VULNERABLE, WEAK OR FADING NEWBORNS
-POOR CONCENTRATION
Price: US$ 25.00
For your complimentary item.
Choose ONLY one option FROM THE FOLLOWING
A- angel wings
B- Hamsa
or
C- Initial Disc with the letter of your choice.
ONLY When choosing HAND HAMMERED DISC,
Add Initials to " NOTE TO SELLER"