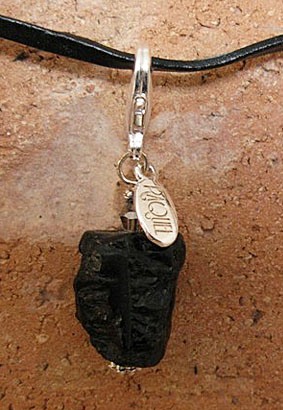 Gemstones and crystals are not only a beautiful piece of pet jewelry, they bring powerful "New Age" healing properties that influence and balance your pet's chakras.
Each PetAmulet by Raquel is handcrafted with semiprecious gems. A sterling silver lobster clasp attaches to the pet's collar ring and is accompanied with a split ring to accommodate any size of collar ring.
The amulet consists a genuine black tourmaline nugget bead cased in silver plated wire with copper core which aids to any pets ailment. It is secured with a star spacer and tiny silver bead. Each "Pawmulet" has the Raquel silver tag brand name.
Black Tourmaline is traditionally used to shield and protect from negative energy - environmental or emotional. With dogs it is especially important to offer this help because of their tendency to protect their beloved people by pulling into themselves tension and even illness. The Black Tourmaline acts like a protective field shielding the animal from harmful influences.
Ailment issues:
hormone imbalances

muscle strains and pains

protects against background radiation

skeletal problems

sponge effect

protects animals against humans emotional negativity

helps animals adapt to being brought into the human environmentn environment
PBR006- Black Tourmaline Pawmulet
Price: US$ 25.00
For your complimentary item.
Choose ONLY one option FROM THE FOLLOWING
A- angel wings
B- Hamsa
or
C- Initial Disc with the letter of your choice.
ONLY When choosing HAND HAMMERED DISC,
Add Initials to " NOTE TO SELLER"