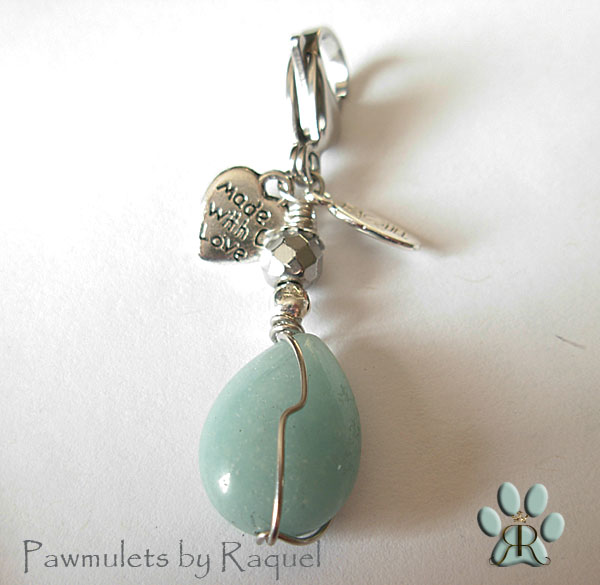 Gemstones and crystals are not only a beautiful piece of pet jewelry, they bring powerful "New Age" healing properties that influence and balance your pet's chakras.
Each Pawmulet by Raquel is handcrafted with semiprecious gems. A silver plated lobster clasp attaches to the pet's collar ring and is accompanied with a split ring to accommodate any size of collar ring. The amulet consists a genuine 10mm Amazonite bead is encased in silver plated wire with copper core which aids to pet ailments. It is secured with a star spacer and tiny silver bead. Each "Pawmulet" has the Raquel silver tag brand name.
Amazonite - is a mint green to aqua green stone associated with the heart and throat chakras. This beautiful stone works to treat several different symptoms and ailments such as throat problems, arthritis, and infections, along with many other healing properties. It promotes sleep, calms an anxious pet, and boosts self-esteem. Amazonite calms the nervous system. Amazonite improves confidence, and loving communication and trust which helps in training. It is a stone of expression when you feel your pet has locked up parts of their personality. It eliminates aggravation and negative energies. It soothes all the chakras and rejuvenates the heart & throat chakras. General health maintenance, helps resist tooth decay, osteoporosis & dispels muscle spasms, assisting the body with the absorption of calcium. It is beneficial in calcium deposits, balancing the metabolic deficiencies that create these conditions. Amazonite protects health hazards of microwaves and other sources of electromagnetic smog.
AILMENTS:
- ARTHRITIS
- INFECTIONS
- CALMS ANXIOUS PET
- COMMUNICATION
- AGGRAVATION
PBR022 - Amazonite Pet Pawmulet
Price: US$ 25.00
For your complimentary item.
Choose ONLY one option FROM THE FOLLOWING
A- angel wings
B- Hamsa
or
C- Initial Disc with the letter of your choice.
ONLY When choosing HAND HAMMERED DISC,
Add Initials to " NOTE TO SELLER"