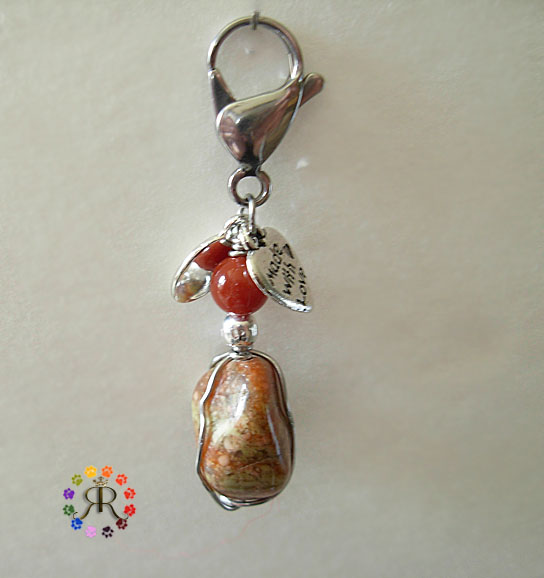 Gemstones and crystals are not only a beautiful piece of pet jewelry, they bring powerful "New Age" healing properties that influence and balance your pet's chakras.
Each Pawmulet by Raquel is handcrafted with semiprecious gems. A stainless steel lobster clasp attaches to the pet's collar ring and is accompanied with a split ring to accommodate any size of collar ring. The amulet consists a genuine 20mm Autumn Jasper nugget bead encased in stainless steel wire and a 6mm genuine citrine bead. Each "Pawmulet" has the Raquel silver tag brand name and adorned with a 'made with love' silver heart charm.
Autumn Jasper is worn to stimulate healing energies for the liver and kidneys.
It will also give your pet a sense of security and caring. It also Improves a poor sense of smell and/or circulation and soothes fragile nerve endings.
This healing stone can be used to treat disorders of the spleen, bladder and stomach and will also remove unwanted toxins from the body.
AILMENTS:
- HEALING ENERGIES FOR THE LIVER AND KIDNEYS.
- GIVE YOUR PET A SENSE OF SECURITY AND CARING.
- IMPROVES A POOR SENSE OF SMELL
- SOOTHES FRAGILE NERVE ENDINGS.
- REMOVE UNWANTED TOXINS FROM THE
pbr026 autumn Jasper Pet Pawmulet
Price: US$ 25.00
For your complimentary item.
Choose ONLY one option FROM THE FOLLOWING
A- angel wings
B- Hamsa
or
C- Initial Disc with the letter of your choice.
ONLY When choosing HAND HAMMERED DISC,
Add Initials to " NOTE TO SELLER"