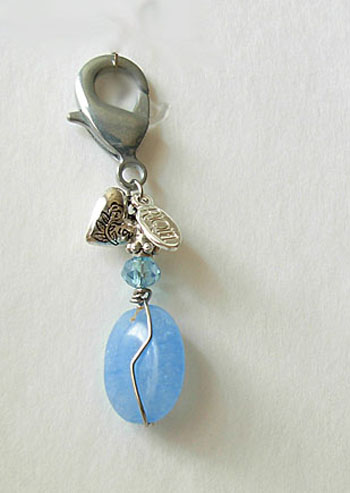 Gemstones and crystals are not only a beautiful piece of pet jewelry, they bring powerful "New Age" healing properties that influence and balance your pet's chakras.
Each Pawmulet by Raquel is handcrafted with semiprecious gems. A silver plated lobster clasp attaches to the pet's collar ring and is accompanied with a split ring to accommodate any size of collar ring. The amulet consists a genuine Aquamarine bead encased in silver plated wire with copper core which aids to pet ailments. It is secured with a star spacer and tiny silver bead. Each "Pawmulet" has the Raquel silver tag brand name.
Aquamarine is a mineral of the Beryl family and is derived from the Latin meaning "water of the sea." With its pale blue color, it reminds water of the sea. Aquamarine has the calming, soothing energy of the sea. Aquamarine aids excessive barking and is associated with the throat chakra. Aquamarine aids with, bronchitis, blisters, dry skin, eye issues, motion sickness, and fear of vacuum cleaners. Affects etheric and mental levels. Helps stabilize and harmonize unsettled surroundings; reduce fears. Quiets the mind and reduces stress. Helps bring about a tolerance toward others.
-EXCESSIVE BARKING
-bronchitis,
-EYE ISSUES
-DEHIDRETION,
-DRY SKIN
-FEAR OF VACUM CLEANER
PBR025 Aquamarine Pet Pawmulet
Price: US$ 25.00
For your complimentary item.
Choose ONLY one option FROM THE FOLLOWING
A- angel wings
B- Hamsa
or
C- Initial Disc with the letter of your choice.
ONLY When choosing HAND HAMMERED DISC,
Add Initials to " NOTE TO SELLER"