PC025 - Holistic Dog collar necklace with genuine gemstone crystals aiding - Skin problems, Anxiety, Fleas and ticks repellent- 6 crystals
This stylish holistic dog necklace is hand-woven from waxed cotton cord. It is strong and durable. Interwoven are genuine gemstone crystals to address the specific issues of your dog. Durable, strong yet soft and comfortable.
This holistic crystal dog consists natural semi-precious stones: Amethyst, Raw Amber, Black tourmaline, Aquamarine,Citrine, Aventurine and Rose Quartz.
The gemstones are interwoven in a special way to create a direct contact to the skin
The closure is a silver plated swivel clasp with an extender of 3 cm (1 inch)
They addresses issues such as:
Skin problems, fear, nervousness, anxious, discharge from the eyes, fear of humans, low confidence and past abuse. In addition to Fleas and ticks.
* You can see in photo #4 the showing the area with tin hair
In photo #5 you can see the area after 4 weeks. The fur is shining and healthy.
Previous • Next• Back to Pet crystal holistic collars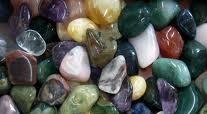 Consultation advice
without purchase.
$15.00